PrognosE is a Design Pattern End-to-End Data Analytics Solution fully customizable and scalable to prepare and refine a SILOED and/or publicly available not fully exploited data set dataset of mature Oil & Gas fields, to facilitate Visual Examination and Quantitative Descriptive Data Analytics review. PrognosE solution is relevant for the O&G Industry to explore large datasets to identify opportunities to generate value (REVENUE) in the short term with REDUCED investment costs.
These analytic solution can be used as SCOUTING TOOL, to quickly assess the potential of Oil & Gas fields and blocks placed up for biding process, among other important applications.
Easy-to-Digest, Fully-Interactive Visualizations, served in Tableau Public; the valuable actionable insight can quickly be extracted with a few clicks. Filtered data tables also can be downloaded, or published as Google Sheets.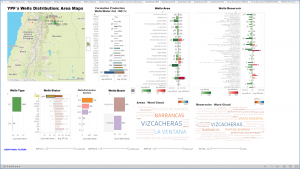 PrognosE was used to test how an official public LARGE dataset (March 2021) that comprises well basic data, and accumulated oil, gas, water productions, of nearly SIXTY THOUSAND wells from mature Oil & Gas fields in Argentina; the data was cleaned, structured, and refined in  a cloud base data preparation (Trifacta). 
Results are then exported and published as a Google Sheet, which is connected from Tableau Public and Google Data Studio or any other solutions to perform advanced Visual Exploration and Quantitative Analytics. This workflow can be further improved and automated by implementing it in the  Google Cloud Platform using Trifacta Cloud Data Preparation, Cloud Storage Functions , and other tools.
Results are published AUTOMATICALLY in Cloud Storage , where can be directly accessed from Google Data Studio to perform Quantitative Data Analytics. The refined data can also be published as a Google Sheet to be connected with Tableau Public or another BI solution for extra Advanced Visualizations or to be used in other applications.
Mineaoil Data Analytics specialist can get in contact with your company for a low cost efficient solution tailored to your specific requirements, please contact us.