MIneaOil Consulting offers exceptional expertise with innovative solutions for the evaluation, design, planning and development of  gas fields, including dry gas, rich gas and retrograde gas condensates.. Our expertise include onshore and offshore projects in Latin America, North Sea, Africa, and Australia, where our exerts we have participated in the evolution of new technologies and strategies  since the decade of 1980 to 2020, which dramatically optimized the gas field developments.

We have worked in fluids and reservoir characterization, modern high productivity well completions,  integrated asset modelling  applied  by major operators and technology providers in important gas gas fields worldwide.

We commit to work as part of your team and to dedicate to the successful execution and completion of all the stages off you project. From planning, detailed engineering, project management, construction management, inspection, project control, project development and operations.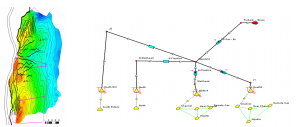 We also specialize in providing experienced professionals, project managers, project engineers, field coordinators, inspectors, as well as other project support resources to facilitate and manage all development phases of offshore projects.